Vendors
Languages
Currency
CAT '20 Crash Course
Availability:
Only few left
Price:
₹ 7,999.00
7999.00
add to wish list
Description
Live Lectures Starting Sep, 18Batch Timings : 09:00 PM - 10:30 PM
How it Works
135+
SIMULATED MOCKS
Simulated CAT and Non-CAT tests with questions as per latest pattern & difficulty level
LEARNING
TOOLS
135+ ebooks, videos, chapter/ topic wise tests and practice assignments
Interact with top performers from different parts of the country to assess competition
TELEGRAM
DISCUSSION GROUP
AI TEST
ANALYTICS
Strategic guidance on use of AI powered test analysis to boost performance
ADVANCED LIVE
LECTURES
45 Interactive Live sessions from accomplished faculty on essential concepts & strategy
Course Details
The CAT '20 Crash Course is designed to boost your preparation for all CAT and Non-CAT examinations. It includes conceptual video lectures, live shortcut workshops, assignments and tests from areas that feature in MBA entrances like Quantitative Aptitude, Verbal Ability & Logical Reasoning and Data Interpretation. As a value addition, students also get a national mock CAT and non-CAT test series to assess their preparation levels before the exams.
This crash course program has been designed to enhance student's preparation through a personalized curriculum that will help speed-up the learning before the actual exam.
What you will learn
Advanced concepts, theories and definitions of different CAT topics
Revision of important exam-related concepts
Shortcuts, tips and tricks to solve questions in less time
Different strategies to attempt CAT and other exams
The Team
With over 20+ years of experience; Hitbullseye faculty is a brilliant mix of test prep gurus, curriculum experts and industry leaders. We have produced numerous CAT 100 percentilers and successful toppers. Our top-notch experts have helped thousands of CAT aspirants realize their dreams of getting admissions in the best MBA colleges & be placed in top companies for over two decades now.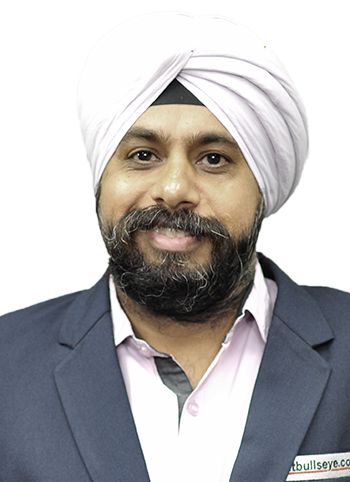 Harinder Singh
B.COM (Gold medalist), MBA 
Quant Guru & powerhouse of knowledge, with 15+ years of rich teaching experience. His useful tips are heavily sought after by students.
Rajeev Markanday
MBA
Master of English with 15+ years of teaching experience. He is hugely popular with students for his energetic and witty delivery style.
Product reviews (1)